The Project
We believe in change
Her gaze was full of sadness. She could not even present herself without bowing her head and having her eyes fill with tears, unable to utter a single word.
After a big hug and asking how she felt, Consuelo's face and eyes reflected that a hug and feeling protected even for a second was what she needed.
Over the course of her week with Lucy  in the Andes, Consuelo opened her heart and claimed that the reason for her sadness was the death of the woman she adored, to whom she entrusted her things and who advised her. She had lost her mother three months ago.
Since losing her mother, Consuelo was not interested in anything in her life. She stopped studying to help her father, who has trouble walking, work in agriculture. Consuelo had lost her desire to live, did not believe in joy any longer, and only wanted to go with her mother.
Through this workshop we managed to get Consuelo to feel a little safer and to change that sadness at times for smiles. She began to understand that although the emptiness and pain were immense, she has a lifetime to fight and get ahead in honor of the memory of her mother.
On our first workshop we hoped to reach 100 women, when we arrived we were surprised and overwhelmed by the demand. 180 women showed up!
This shows the demand and will is high and the potential to impact is high,
This is why here at Lucy we are motivated to keep reaching out and doing as much as possible for the rural women of the Andes.
Sex Education
We teach the women a variety of topics, such as how to prevent unwanted pregnancy, family planning, etc., with the goal that they may take control of their bodies and make well-informed decisions regarding their personal preferences.
Health
We advise the women in many different health matters, such as the menstrual cycle, personal hygiene, and healthy pregnancies, among others.
Healthy Relationships
We talk with the women about qualities of a healthy relationship and personally work with them to discuss their past and current relationships.
Legal Advice
We provide legal advice to the women so that they may know their legal rights and options, for example education surrounding alimony for those who need it.
Join us!
Volunteer at our next workshop, and help us lead the effort toward a society in which all women can lead independent and dignified lives.
Eran Hayoun
Founder and CEO
Restless soul, traveler, and leader Eran is dedicated to creating ecological conscience and leaving a good finger print on the world. During his work in tourism and hotel management, Eran learned a lot about the different cultures and the communities in the Andes.  Through his observations of the challenges women face in the Andes, Eran was inspired to create Lucy in the Andes, in hopes that the education they receive will bring them a brighter future.
Isabel León
Legal Education
Lawyer of the Courts of the Republic of Ecuador Isabela specializes in personal data protection. She has given multiple conferences on Digital Violence to children and teenagers. For Lucy in the Andes, Isabel teaches about women's rights and empowerment, and provides legal assistance to volunteers and participants.
Nadia Goren
Psychologist
Clinical psychologist Nadia has worked in private practice for more than 8 years, focused on working with children and teenagers. She is an excellent professional with lots of positive energy, and has a good connection with children. She provides lectures, talks and workshops for training, motivation and guidance on issues facing women and children.
Marga Anhalzer
Female Education
Marga has been helping women experiencing vulnerable situations during childbirth and postpartum for over 10 years. She is a very passionate person when it comes to helping people in need. Marga is always interested in the well-being of women regarding all aspects.
Monika Montes
Sexual Education
Monika has been coordinating the volunteer work of foreigners in Ecuador for more than 18 years. Her intimate knowledge of so many of the aid organizations operating in Ecuador brings Monika to the front lines of seeing the shared needs of so many of her fellow Ecuadorians.  Monika understands the importance of sex education for many of the indigenous communities, and offers seminars helping women to understand their bodies, and their options to make conscious choices about their health.
Rómulo Troncozo
Economical Education
Economist, Sociologist and Lawyer of the Courts of the Republic of Ecuador Romulo has contributed to numerous sustainable development projects in different areas of the country. For Lucy in the Andes he provides seminars on topics such as: scholarships, education and recycling.
Paola Bohórquez
Tourism and Hotel Management
Paola has always lived in the Andean region of Ecuador, in the middle of mountains at 3,000 meters above sea level.  She loves to talk with people, learn from them and whenever possible, help them. Paola currently runs a hotel in the middle of the mountains, where tourists from all over the world are welcomed.  During the Lucy in the Andes Educational Week, Paola manages the housing of the volunteers and participants, many of whom stay in her hotel.
Lisa Gradl
Concept & Vizualisation
Lisa is a Graphic Designer based in Europe who learned of Lucy in the Andes during a visit to Ecuador.   Lisa is passionate about helping women reach their full potential by empowering them to make conscious choices about their bodies and relationships.  Lisa has supported Lucy in the Andes with graphic web design.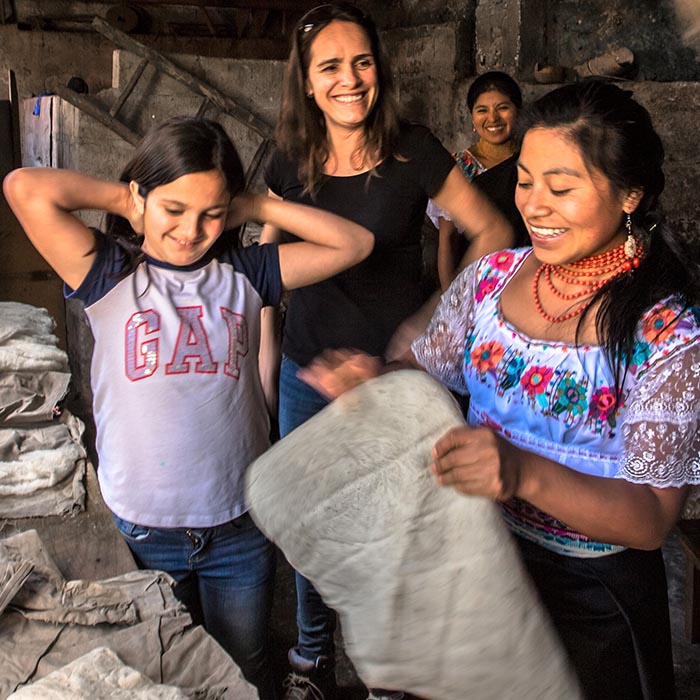 Mariana Lanusse
Regional DMC Manager
Mother, and entrepreneur, Mariana is passionate about sustainable tourism. She believes that tourism can be a tool to create a planet with greater wealth and more equitable opportunities where the value-added chains of the industry are not measured only by arrival and departure statistics, but by the lives we can change through an appropriate cultural exchange between visitors and locals.
We would like to thank our sponsors who make this project possible and invite you to join the family and support us as well