The Project
We believe in change
As you read this introduction, young girls, ages 14 to 16, are secretly struggling with their pregnancy while having no means or capability to start a healthy family or even a healthy relationship with their partner.
In my memory this is a glorious age, when life is at its peak, one has big dreams and a hopeful future. Getting pregnant without any support from their young partner or parents takes this bright and positive experience away from them, leaving an unrecoverable loss of innocence and the beauty of youth.
All over the Andes there are millions of women who don't have the freedom to decide over their education, bodies and future.In the rural patriarchal communities of the Andes women's ability to choose their education and career path is very limited and a code of silence prevents these women from talking and addressing their mental and feminine issues. This code of silence is applied in many fields of life such as sexual matters, relationships, health and more.
Here at Lucy we address these issues in order to give the women of these communities the power to decide themselves about their lives and bodies and fulfill their full potential.
Our team is comprised of a sexual education teacher, a lawyer, a midwife, a doctor and an economist, With their help we strive to help these women in as many aspects of their lives as possible.
In order to get help to these women, we first reach out to the leaders of the communities and explain them how our workshops are beneficial for their communities. We commit to buy local products and hire local people from the communities for our workshops, these way we also support the local economy.
Our workshops are comprised of classes from various fields, from teaching the anatomy of the woman's body, through sexual education and importance of contraceptions, to what a healthy relationship should look like. We also provide these women with information regarding education, scholarships, nutrition, women's rights and self care. Through these workshops we gain their trust and talk about their issues from past and present and dreams of a better future we try to help them achieve.
To get the maximal participation possible we give packages of essential products to the ones who attend all of the classes, provide nutritious breakfast and lunch and free transportation from and to their remote homes. All they have to worry about is to learn.
To make sure the workshops are productive, during the workshops we make sure the women understand and acknowledge the importance of the lessons we give them, in addition we do post-workshop visits to give further consults and evaluate the impact of the workshops on the communities and the women.
On our first workshop we hoped to reach 100 girls, when we got there we were surprised and overwhelmed by the demand, 180 girls showed up.
This shows the demand and will is high and the potential to impact is high,
this is why here at Lucy we are highly motivated to keep going and do as much as possible for the rural women of the Andes.
Sex Education
We teach the women a variety of topics, such as how to prevent unwanted pregnancy, family planning, etc., with the goal that they may take control of their bodies and make well-informed decisions regarding their personal preferences.
Health
We advise the women in many different health matters, such as the menstrual cycle, personal hygiene, and healthy pregnancies, among others.
Healthy Relationships
We talk with the women about qualities of a healthy relationship and personally work with them to discuss their past and current relationships.
Legal Advice
We provide legal advice to the women so that they may know their legal rights and options, for example education surrounding alimony for those who need it.
Join us!
Volunteer at our next workshop, and help us lead the effort toward a society in which all women can lead independent and dignified lives.
Eran Hayoun
Founder and CEO
Restless soul, traveler, leader who dedicated to create ecological conscience and leave good finger print in the world. During his work in tourism and hotel management he gained experience learning about the the different cultures and the reality of communities in the Andes.
Isabel León
Legal Education
Future Lawyer of the Courts of the Republic of Ecuador. Maintains special handling of criteria regarding personal data protection. She has given multiple conferences on Digital Violence to children and teenagers. Her role in the project is legal, she is one of the speakers on women's rights and empowerment.
Nadia Goren
Psychologist
Clinical psychologist, she works in private practice for more than 8 years, focused on working with children and teenagers. She is an excellent professional with lots of positive energy, has a good connection with children. She provides lectures, talks and workshops for training, motivation and guidance.
Marga Anhalzer
Female Education
She has been helping women experiencing vulnerable situations during childbirth and postpartum for over 10 years. She is a very passionate person when it comes to helping people in need. Marga is always interested in the well-being of women regarding all aspects.
Monika Montes
Sexual Education
Monika has been coordinating the volunteer work of foreigners in Ecuador for more than 18 years. This experience has given her broad knowledge on the on the reality of this mega diverse country, from the perspective of multiculturalism.
Rómulo Troncozo
Economical Education
Applicant for the titles of Economist, Sociologist and Lawyer of the Courts of the Republic of Ecuador. He has high performance in the area of research and has been part of large sustainable development projects in different areas of the country. He is part of Lucy in the Andes as a speaker on topics such as: scholarships, education and recycling.
Paola Bohórquez
Tourism and Hotel Management
Paola has always lived in the Andean region of Ecuador, in the middle of mountains at 3,000 meters above sea level
She loves to talk with people, learn from them and whenever possible, help them. She has a very great connection with all animals, in each of them she recognizes a being who loves us.
Paola currently works in Tourism, running a hotel in the middle of the mountains, where they welcome tourists from all over the world where some of the people who go to Lucy are staying.
Lisa Gradl
Concept & Vizualisation
Lisa is a Graphic Designer based in Europe who wants to support women in terms of sexual relationships to fulfill their full potential. Through her travels in Ecuador she got in touch with Lucy and supports the project from day one on the visual side.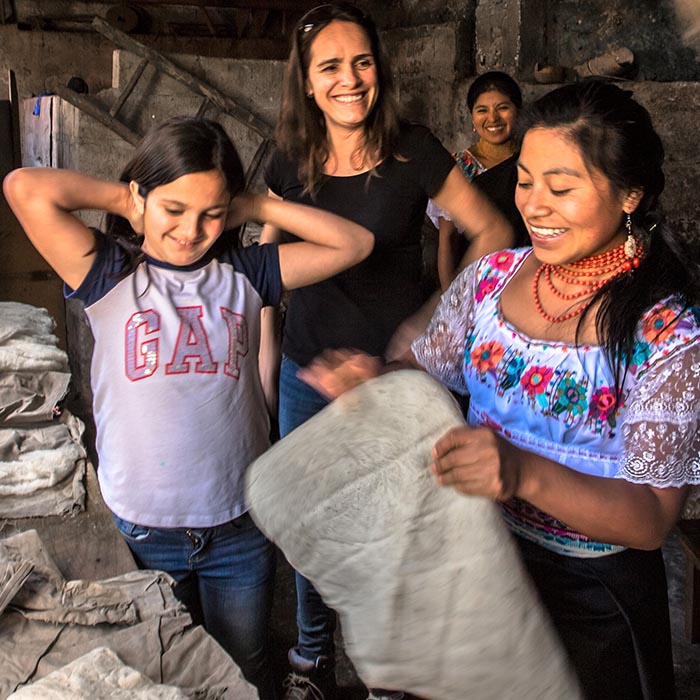 Mariana Lanusse
Regional DMC Manager
Mother, woman, and entrepreneur. Passionate about sustainable tourism; faithful believer that tourism is a tool to create a planet with greater wealth and more equitable opportunities where the value-added chains of the industry are not measured only by arrival and departure statistics, but by the lives we can change through an appropriate cultural exchange between visitors and locals.
We would like to thank our sponsors who make this project possible and invite you to join the family and support us as well